Semi-Trailer Tank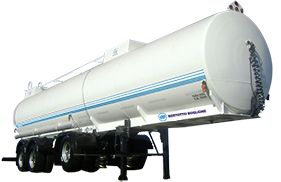 Semi-trailer tank measures 12 to 35 m3 for water, irrigation, fertilizers and oils. It has 1, 2 and 3 axles in tandem, 2+1 directional axles in 1, 2, 3, 4 or 5 sections, as needed.

50

 

mm kingpin with certification of approval. Rim discs 9" x 22.5 for tires with no inner tubes.

Pneumatic or leaf spring suspension system. Spring brake system with automatic release and ABS.

Full factory accessories.

Manufactured pursuant to international quality standard ISO 9001.